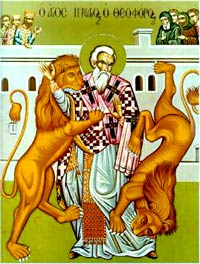 Ok... so this should have been posted yesterday... technically.

From Ignatius' letters:
To the Trallians

-- [Jesus Christ] is our Hope, and if we live in union with him, we shall gain eternal life. ...
Be deaf, then, of any talk that ignores Jesus Christ, of David's lineage, of Mary; who was really born, ate, and drank; was really persecuted under Pontius Pilate; was really crucified and died, in the sight of heaven and earth and the underworld. He was really raised from the dead, for his Father raised him, just as his Father will raise us, who believe on him, thought Christ Jesus apart from whom we have no genuine life.



To the Romans

-- Just pray that I have the strength of soul and body so that I may not only talk [about martyrdom], but really want it. It is not that I merely want to be called a Christian, but actually to

be

one. Yes, if I prove to be one, then I can have the name. ... Our God Jesus Christ, indeed has revealed himself more clearly by returning to the Father. The greatness of Christianity lies in its being hated by the world, not in its being convincing to it. ...
Let me be fodder for wild beasts-- that is, how I can get to God. I am God's wheat and I am being ground by the teeth of wild beasts to make a pure loaf for Christ. ...
All the way from Syria to Rome, I am fighting with wild beasts, by land and sea, night and day, chained as I am to ten leopards (I mean to a detachment of soldiers), who only get worse the better you treat them. But by their injustices I am becoming a better disciple, "though not for that reason am I acquitted."...
May nothing seen or unseen begrudge me making my way to Jesus Christ. Come fire, cross, battling with wild beasts, wrenching of bones, mangling of limbs, crushing of my whole body, cruel tortures of the devil--only let me get to Jesus Christ! Not the wide bounds of earth nor the kingdoms of this world will avail me anything. "I would rather die" and get to Jesus Christ, than reign over the ends of the earth. That is whom I am looking for--the One who died for us. That is whom I want--the One who rose for us.

Peace.